Regardless of what you're driving, your vehicle is a complex mechanical marvel. When something goes wrong, it'll affect the entire system. To solve the problem and restore your auto, give Cash's Garage a call.
We're equipped for complete automotive repairs in Madison Heights, Monroe, Amherst County, and Lynchburg, VA, no matter what you're driving or what's keeping you off the road.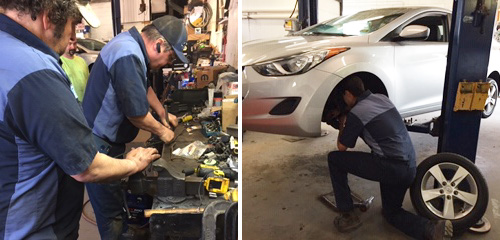 Full Automotive Repairs
Dealing with engine issues that make it impossible to keep your car running? Dropped the transmission in your truck? Problems with your big rig's axle? Nothing gets past us! We're your source for complete engine, undercarriage and transmission repair in Madison Heights, VA. Whether it's an issue that's got you sidelined or just a suspicious noise, let us tend to the problem to protect your vehicle from future problems and keep you safe behind the wheel.
Transmission repairs
Engine repairs
Axle repairs
Maintenance Services
We're your one-stop shop for maintenance services, regardless of the vehicle. Trust us to use the best synthetics for your oil change or provide your car with a tune-up that's immediately noticeable. Need factory scheduled service? No problem! We'll take care of everything.
For fleet operators, we're the partner you can count on for fleet maintenance. We'll keep your vehicles in tip-top shape, so they serve the demands of your business.
Fleet maintenance
Oil changes
Auto tune up
Brakes, Wheels and Tires
From new treads to an overdue realignment, stop in to put your vehicle back on track. We can also throw on new brakes and balance your tires, improving handling and safety. Using state-of-the-art maintenance technology, you'll drive away with camber, caster and toe all in perfect balance.
Mounting tires
Tire balancing
Brake jobs
Alignment (regular and heavy)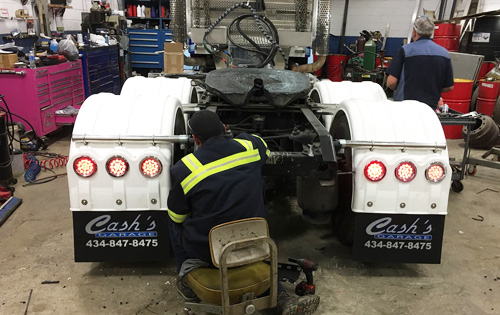 Get Back on the Road
No one can predict auto trouble. When it strikes your vehicle, make the call to Cash's Garage. We'll come tow you off the side of the road and provide heavy-duty roadside assistance if necessary! Whatever it takes to get your vehicle the service it needs to drive safely.